Front Runner Events has a longstanding relationship with Racecheck, who have provided our events with pacers for the last couple of years. For 2021, unfortunately, we're unable to offer pacers at our events, however, we want our runners to have some sound advice about pacing themselves during our events.
Chris Baker, a member of the Racecheck #VisorClub community and a pacer who has lots of experience at pacing, has provided us with a blog about pacing for a sub-2-hour half marathon. If a sub-2-hour half is one of your race targets, or whether you want some general pacing advice, take a read of Chris' blog below.
Having paced various distances over the years, ranging from 10km to marathons, Chris really does know his mile/KM splits to get you over that finish line in your target time. However, the flag Chris has mainly carried on his back at events, is the much sought after half marathon sub-2-hour target (21 times now with more to come soon, now that we are back racing after COVID-19 and four times at our very own Swansea Half).
Chris said,
"I'm not telling you about my experience to impress or boast, but rather to hope that I might be able to impart some valuable advice that I've learned during my time as a pacer.
I love pacing sub 2 hours and helping runners achieve that holy grail that many have tried years to achieve. I've paced faster times, but the joy and gratitude that runners express after finally dipping under 2 hours is hugely fulfilling for me and feels like I'm giving something back to the running community.
Following a pacer is a great way to take the pressure, strategy and stress off yourself, let the pacer take care of that for you – they'll constantly be re-calculating the time needed to reach the finish at their goal time. Different pacers use different strategies; however, I always aim to bring my runners in within 60 seconds of the goal.
So, for a 2-hour pace, I would hope to finish in 1 hour 59 minutes something (nobody wants to finish in 2hours and 1 second, so being slightly quicker is imperative). They should also be running a constant pace throughout the race – this saves valuable energy. I too often see tired runners at the tail-end of a race, walking or running slowly then sprinting off when they see the 2-hour flag pass them. I often tell them that if that's their aim, follow me and spring past me in the final 500m, rather than racing me and trying to stay in front. That vital energy saving will hold you in good stead at the end of the race.
It also might sound obvious, and you'll have heard it before - BUT DON'T START TOO FAST! Your race can literally be ruined in the first few km's. This is especially true in the large races, where the many runners, loud crowd support and adrenaline will spur you on. If the race is very crowded at the start, many feel the need to make up for a slow, cramped start by sprinting off – you can make your time back gradually over the race if this happens.
We all know we need to test your race-day kit and nutrition in the build up to the race, nothing should be new or left to chance. In your training you should have been working towards your target goal, however, if the weather is warm or humid, consider if your race pace goal should be altered, as it can make a big difference.
During the London Marathon in 2018 (the hottest on record), I felt in Personal Best form before the start. However, 10miles in, I realised that the heat wasn't going to make a PB possible and scaled back my speed – I finished approx. 20 minutes worse than I'd planned, but sometimes there are things that can't be controlled or planned! If I had carried on pushing at the same speed, I know for sure that the wheels would have fallen off and my finish time would have been much worse.
Similarly, the 2019 JCP Swansea Half Marathon was very humid but not particularly hot (personally I find humidity harder than heat to run in efficiently). At the end of the race, there were many people who hadn't adjusted their goal pace to take account of the conditions and had pushed themselves too hard.
Before your race, check the weather forecast beforehand, you'll know then if you'll have wind, heat, or humidity to contend with and whether your goal time is still achievable. Also check the course for any hills or significant elevation. A pacer should try to run the hills and downhills at a constant pace, however, if you prefer you can save energy on the uphill by running slower and picking up the pace on the easier downhill sections.
Have a short personal mantra that you can recite at difficult times – mental strength in a half or full marathon can be crucial. If you've completed a training plan, then your physical prowess should be there – it's often your brain kicking in with negative thoughts that may hold you back. When I struggle, I tell myself "You've Got This" and keep repeating it over and over. Before COVID-19, I would often look for friendly strangers in the crowd and children that are looking for a high-five to spur me on. I always find it helps me without fail.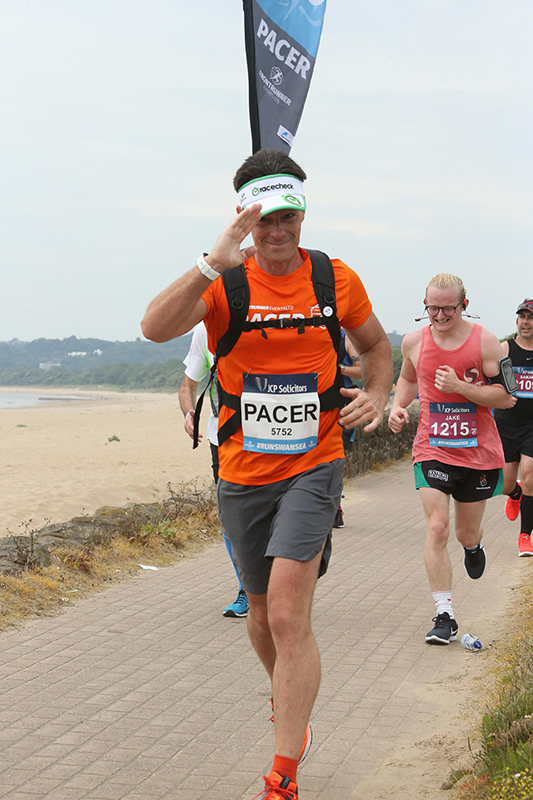 If you're not going to use a pacer or if pacers are not present at your race, make sure you know your goal pace per km or mile, whichever is your preference. Most runners now use a GPS watch or smartphone app but bear in mind that the distance the watch will measure is almost always, NOT exactly the same as the actual official measured race distance.
During a recent race, I paced 2 hours again. My Garmin measured the race distance at 21.58km. versus the expected 21.1kn half marathon official distance. This can be due to various factors and in a large race with lots of runners, the distance you run will usually be longer than it should be as you will be weaving in and out of runners and not taking the most efficient measured race line. This means your pace will need to be slightly quicker (in this case, I planned to run a 5m38s per km pace at the start, but as the race progressed, it became obvious that I would run a longer distance and so had to pick up my pace to 5m32s to ensure I successfully bought in the runners at 1h59m27s).
It's this kind of constant re-evaluation of speed that is needed and why it's often easier to follow a pacer, who will be doing the mental arithmetic for you. You can check your progress throughout the race by comparing your GPS measured watch/phone distance to the official race distance markers.
In short, my advice would be stick with the pacer throughout and then if you still have more to give, speed up towards the finish line! You should have energy to spare at the end from following a 'comfortable', constant pace and this will make your race-day much more enjoyable and at the end of the day, it should be about fun and enjoyment not about struggle and pain.
Many events such as Front Runner Events, are not offering pacers following the pandemic. If pacers aren't available then follow the tips above and make sure you keep your running pace as constant as possible, frequently checking your average pace per mile or km, sticking as close as you can to your goal pace.
Don't panic if you are a little bit out, you will never be exact – but it's probably better to go a little slower in the first half of the race and pick up the pace slightly over the course of the second half if you're feeling good and not the other way around."
With Chris' tips and guidance above, along with your consistent training in the lead up to the events this autumn, the team at Front Runner Events and Racecheck, hope that if you are targeting a specific time, that you achieve your goals.
Whether you're joining us as we #RunSwansea or #RunElli, plan your race strategy using Chris' tips and have a great race!